Location
:
Home
This is
one yummy post
and the first of hopefully many editions of
Mer's Kitchen
.
My friend, Meredith, is a
REALLY. GOOD. COOK.
unlike me. Fortunately, I'm her friend so when she wants to try out a new recipe and she's looking for tasters, I promptly clear my schedule. I'm no fool. Diet or not - I don't miss out on Mer's Kitchen.
Mer baked this pie for the
Emile Henry - How Pretty is Your Pie? Contest
. She and I have been waiting
patiently
for the results today (Janary 23
rd
) which also happens to be National Pie Day. Did you know there was a National Pie Day? Go ahead...mark your calendars.... I'll wait.
waiting...
waiting...
Oh! There you are! Ok, so Mer was kind enough to share her recipe with us. But first some photos from the process...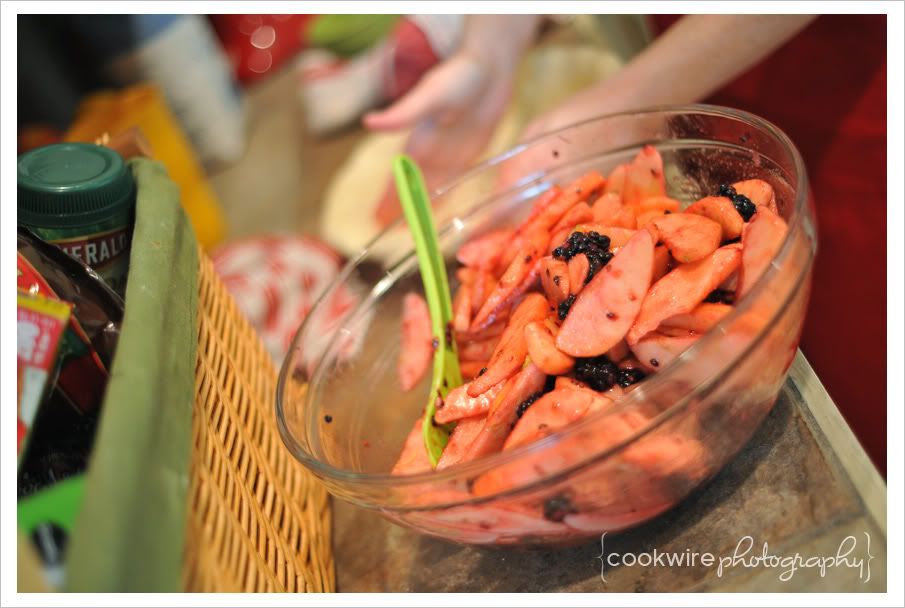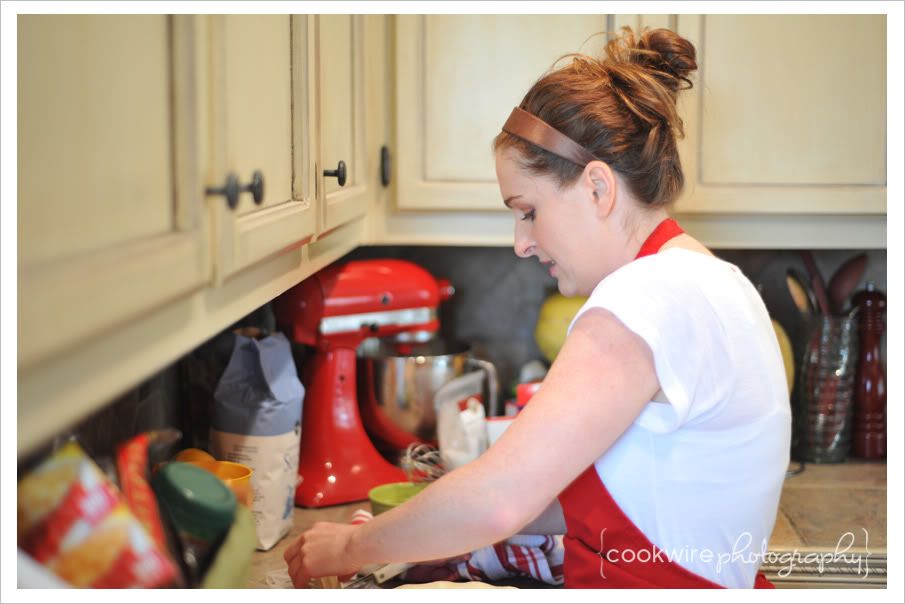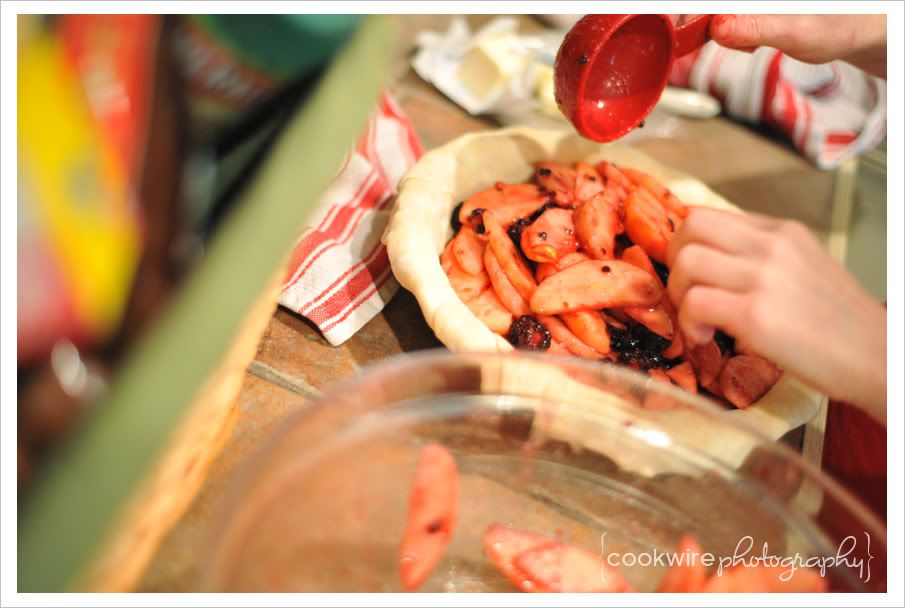 Mer arranging the filling just so!
No such thing as too much butter, right?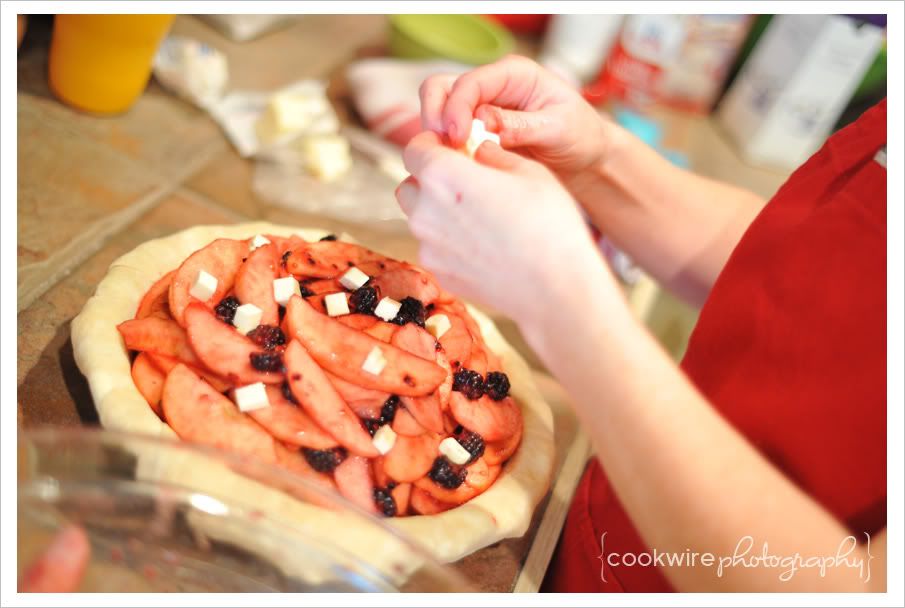 One little secret...As you handle your pie crust, whisper
"I love you pie crust. i love you pie crust. i love you pie crust."
Getting the pie crust on perfectly!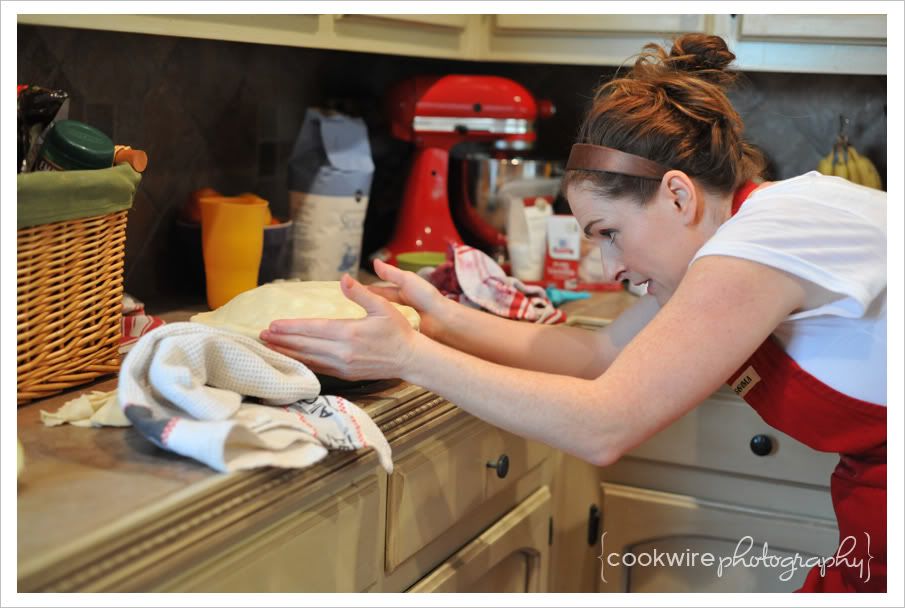 Precisely marking the slits (with a Hello Kitty ruler).
Butter, Sugar, you can't go wrong!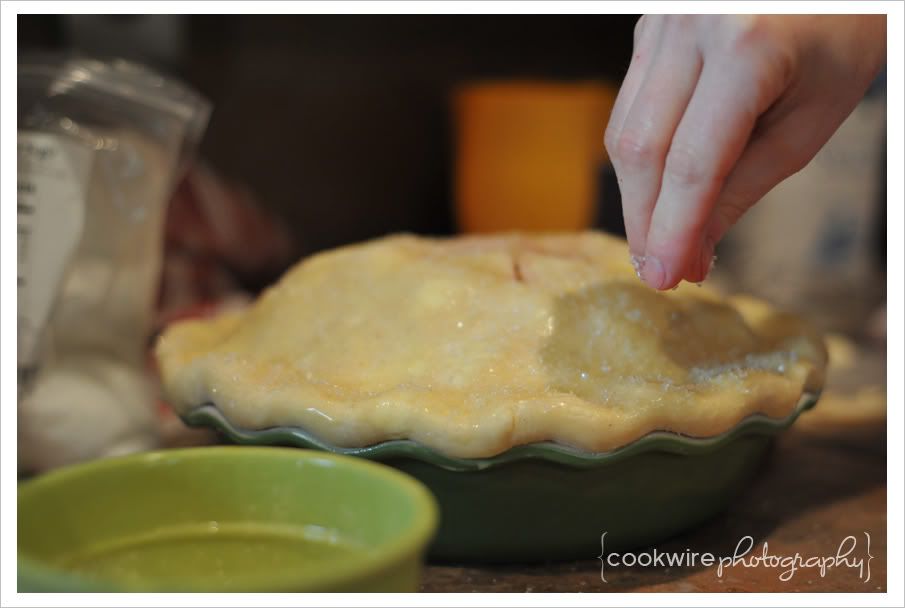 Pie, ready for it's photoshoot!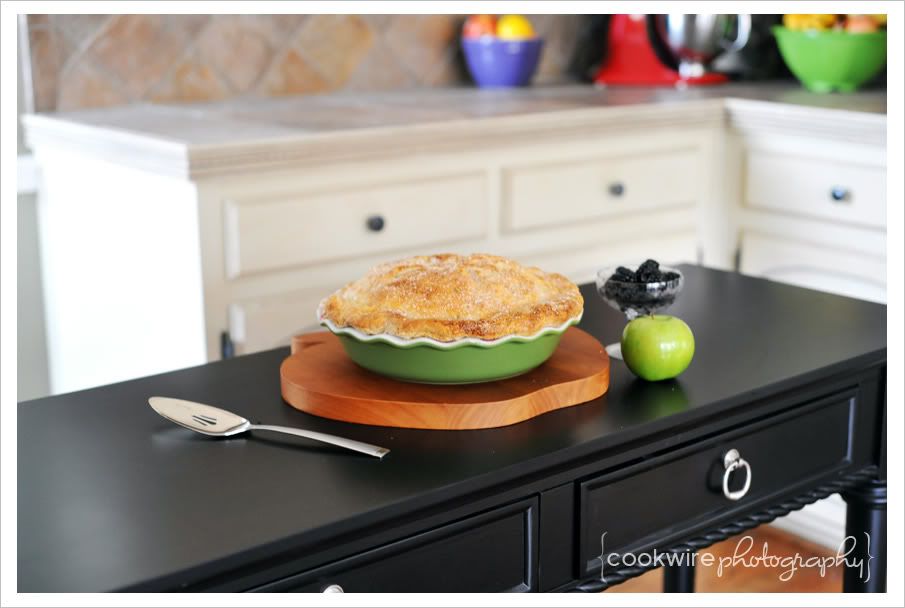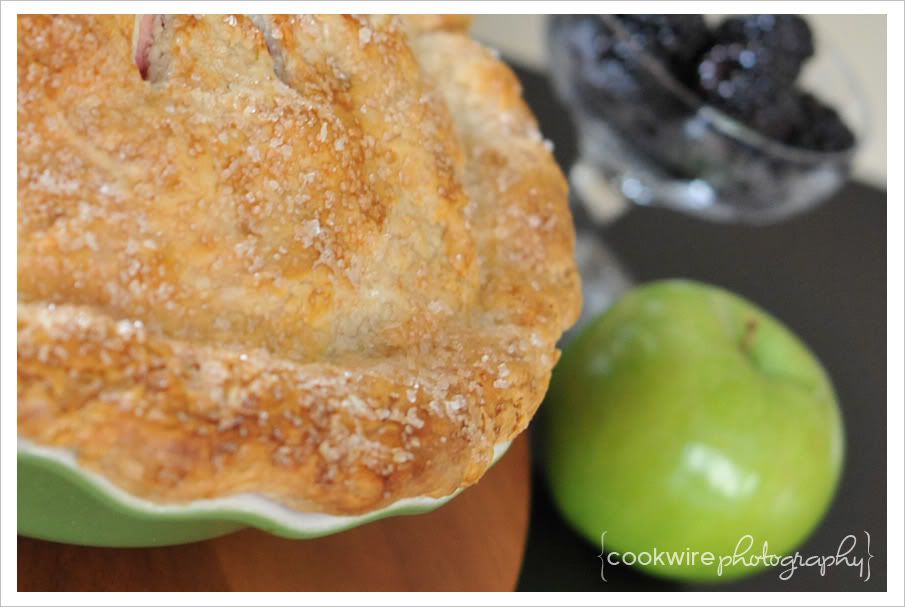 And, the submitted photo!
Then, of course, we ate it! Oh my, the crust was ABSOLUTELY perfect! Crispy, sweet, light!
Sadly, Amy is on South Beach and did not partake of the pie loveliness! She was just as pleased holding
Jamie's
baby girl!
Sweet Meredith enjoying her hard work!
And now, the long-awaited recipe.
Blackberry Apple Pie
Crust
Ingredients
2 1/2 cups unbleached all-purpose flour (12 1/2 ounces)
1 teaspoon table salt
2 tablespoons sugar
2 ½ sticks frozen unsalted butter, cut into 1/4-inch cubes
1/4 cup vodka, cold (don't skip this…vodka will cook off and leave an amazingly crisp crust (promise!))
1/4 cup, plus 1 tablespoon cold water
Instructions
Measure out and combine all dry ingredients into a cold mixing bowl. Sprinkle the butter cubes over the flour mixture and begin working them in with a pastry blender so all parts are worked evenly. When all of the butter pieces are the size of tiny peas, stop combining.
Sprinkle vodka and water over mixture. With a rubber spatula, use a folding motion to mix, pressing down on dough until dough starts to stick together. Divide dough into two even balls and flatten each into a disc. Wrap each in plastic wrap and refrigerate at least 2 days.
Preheat oven to 400 degrees. Roll out pie crusts on a lightly floured surface. Fit bottom crust into an Emile Henry 9 inch pie dish, which can be purchased at local kitchen supply shops such as
Birmingham Bake & Cook Company
in Birmingham, Alabama
(PLUG!)
or at larger kitchen supply stores such as
Williams Sonoma
(PLUG!)
or
Sur la table
(PLUG!)
. After the bottom crust is fit into the pie plate with a 1 inch overhang, cover and refrigerate for ½ hour. Place rolled out top crust on a parchment lined cookie sheet, cover with a kitchen towel and refrigerate until needed.
Prepare Filling.
Filling
Ingredients
1 1/2 tablespoons fresh squeezed lemon juice
1 1/2 teaspoons pure vanilla extract
3 medium Granny Smith Apples
3 medium Golden Delicious Apples
2/3 cup granulated sugar
2 tablespoons finely ground tapioca
2 cups fresh blackberries
1 Egg, beaten
3 tablespoons Sparkling White Sugar
Instructions:
Combine lemon juice and vanilla in a large bowl. Peel, core and cut apples into 1/8 inch slices, tossing them in the lemon juice mixture as you work.
Grind 2 tablespoons tapioca in a clean coffee grinder until very fine.
Mix 2/3 cup granulated sugar and finely ground tapioca and toss with apples. Add blackberries. Combine until all fruit is coated with sugar.
With a rubber spatula, scrape the apple-blackberry filling into prepared pie shell. Distribute fruit evenly inside prepared
Emile Henry pie dish
(PLUG!)
. Top with remaining crust, fold edges under and crimp as desired. Vent the top crust with a few slits. Moisten a pastry brush with egg wash and lightly brush top of pie. Sprinkle with Sparkling White Sugar. Place the pie on a parchment lined baking sheet.
Bake at 400 degrees for 15 minutes. Lower temperature to 350 degrees and bake until crust is golden, about 45 to 55 minutes. Cool on a wire rack for about 1 hour. Serve warm or at room temperature.
Voila! I bet you can't make it as good as Mer, but go ahead, try!
Keep watch for the next edition of Radish Girl Cooks,
Philly Roll Taco with Wasabi Cream
! (Oi! That one was dreamy delicious!)
Be sure to visit
Mer's new blog
for more deliciousness!
UPDATE: Mer's Blackberry Apple Pie, out of thousands of entry's, got runner up. Good job Mer!