Location
:
Home
Mer's recipe is amongst the 20 that you can vote on! Whoot! Vote now
!
Click here to view the other recipes!
Welcome to another edition of
Radish Girl Cooks
. Today's cuisine is totally mouth-wateringly (is "wateringly" a word? I don't think so seeing as the red squiggly line is under it!) delicious!
Mer is entering this recipe in
The 1st Ever Wild Alaska Fish Taco Recipe Contest
. Be sure to vote for it starting today!
(As of 6:41 AM CST, they have not announced with Mer's is one of the finalist recipes.)
I didn't take as many pictures of the process this time. No reason, just got busy chatting instead of snapping I guess.
Yummmmmy broiled Salmon!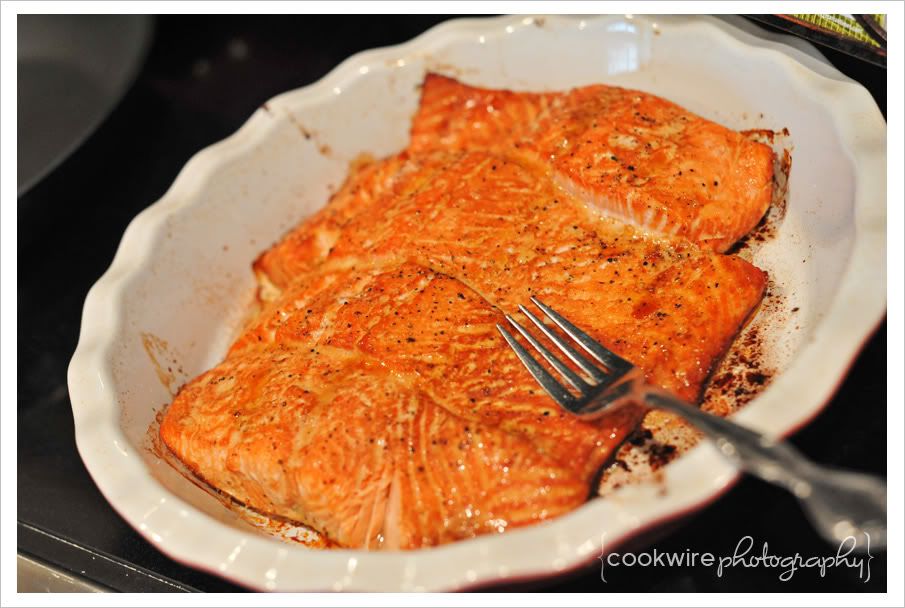 Putting it all together...
Voila! Deliciousness overload!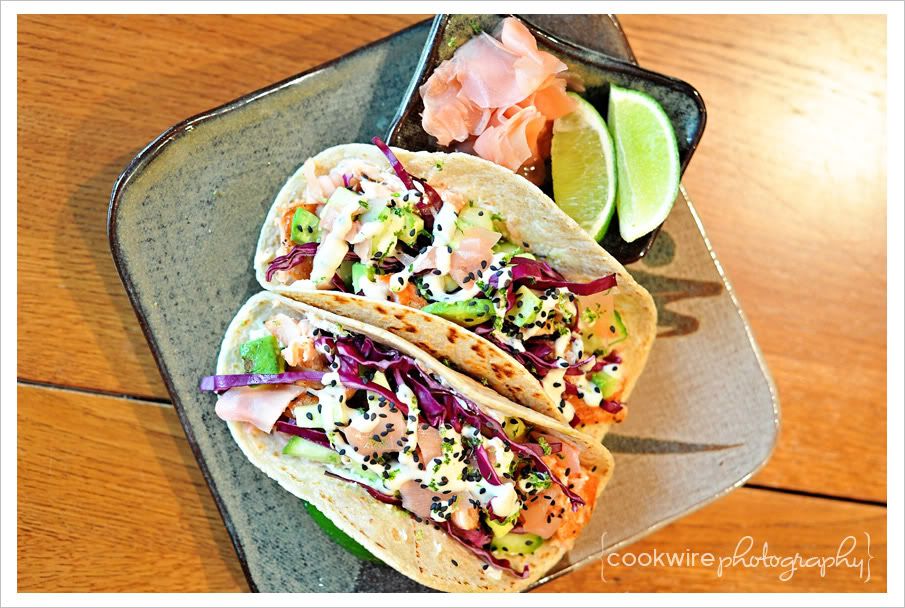 What was that? You want a close look? Okay, you asked for it...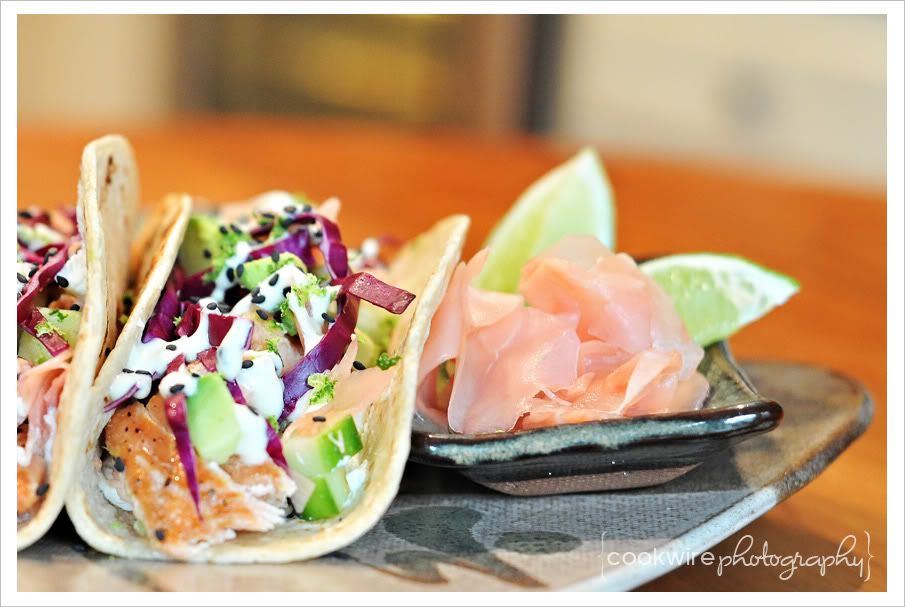 Mer proudly showing off her taco goodness!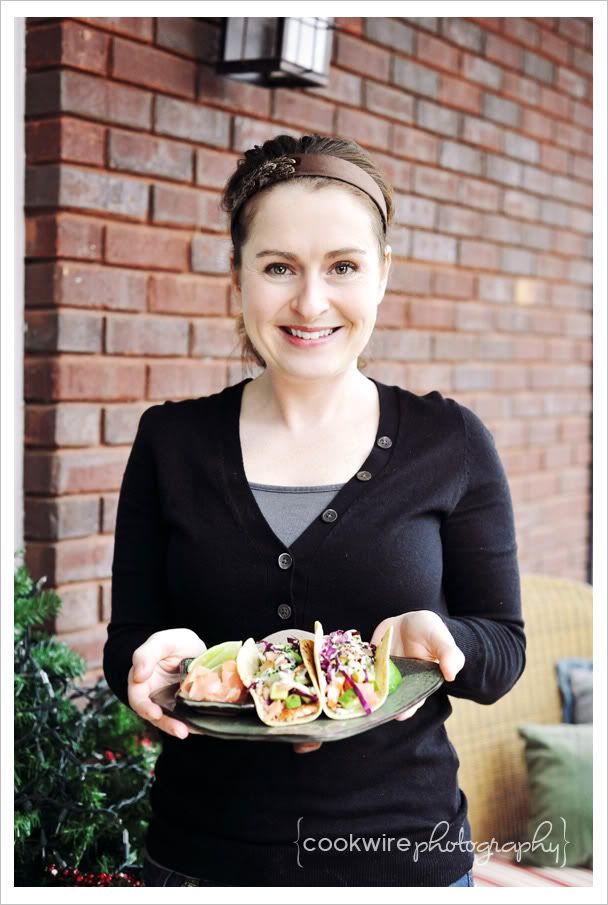 Philly Roll Taco with Wasabi Cream
Serves 8 ( 2 tacos per person)
Ingredients
2 pounds Wild Alaska Salmon, fillets
2 tablespoons low sodium soy sauce
1 tablespoon sesame oil
Kosher salt and cracked pepper to taste
16 6 inch white corn & wheat blend tortillas, warmed (La Tortilla Factory)
8 tablespoons cream cheese
1 English cucumber, diced
½ head purple cabbage, sliced very thin
2 avocados, diced
2 cups pickled ginger
Black sesame seeds
Wasabi Cream, recipe below
Wasabi Cream
1 ½ tablespoons wasabi powder, prepared with water to make a paste
1 tablespoon sesame oil
1 tablespoon rice vinegar
1 teaspoon low sodium soy sauce
3 tablespoons Greek yogurt, plain
2 tablespoons sour cream
1 teaspoon lime juice
Pinch of salt


Preheat oven to 400 degrees.

Marinate the salmon fillets in sesame oil and soy sauce for 30 minutes.

While fish is marinating prepare Wasabi Cream. Wisk all ingredients together until smooth and creamy. Refrigerate until needed.

Remove salmon from marinade, place on a parchment-lined cookie sheet, sprinkle with kosher salt and pepper and bake at 400 degrees until cooked through and flaky, approximately 25 minutes.

Warm the corn tortillas in a dry non-stick skillet.

Spread one tablespoon of cream cheese on each tortilla, leaving a ½ inch border.
Sprinkle a few slices of pickled ginger on top.

Crumble large chunks of salmon on top of cream cheese and ginger.

Top with diced English cucumber, purple cabbage, diced avocado, and more pickled ginger.

Dollop, or pipe Wasabi Cream on top of taco. Garnish with lime zest and black sesame seeds.

Enjoy!! This is a "taco twist" on a sushi bar favorite! Creamy, crunchy, sweet, spicy…this taco has it all!
Be sure to visit
Mer's new blog
for more deliciousness!