My mother gave me this Bible a very long time ago. I believe she purchased it in the 60's when she first came to America from India. It's a very special Bible to me. I love the way it smells, sounds, & feels. I like to imagine my mother, a new American, away from her mother and sisters clinging to it's truth and her God in a foreign country.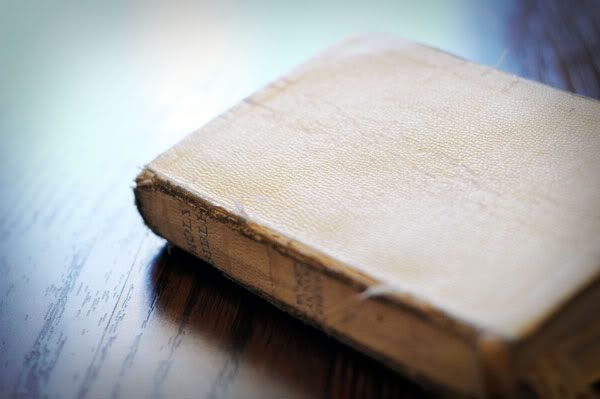 I carry it in my purse from time to time. Normally, on a Sunday morning, I carry my Bible bag with my study Bible and my hubby's Bible in it. But today, I just felt like taking this tried and true, weathered, loved Bible.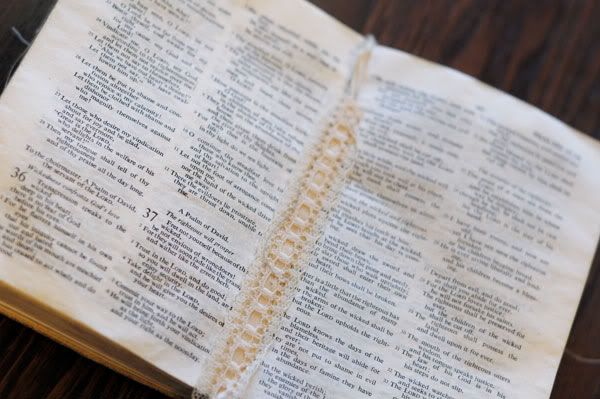 As I sat in Life Connection this morning, I was holding it and thumbing the pages and it opened up to Psalm 37.
1Fret not yourself because of the wicked, be not envious of wrongdoers! 2 For they will soon fade like the grass, and wither like the green herb. 3 Trust in the LORD, and do good; so you will dwell in the land, and enjoy security. 4 Take delight in the LORD, and he will give you the desires of your heart. 5 Commit your way to the LORD; trust in him, and he will act. 6 He will bring forth your vindication as the light, and your right as the noonday. 7 Be still before the LORD, and wait patiently for him; fret not yourself over him who prospers in his way, over the man who carries out evil devices! 8 Refrain from anger, and forsake wrath! Fret not yourself; it tends only to evil. 9 For the wicked shall be cut off; but those who wait for the LORD shall possess the land. 10 Yet a little while, and the wicked will be no more; though you look well at his place, he will not be there. 11 But the meek shall possess the land, and delight themselves in abundant prosperity.
If I keep my relationship with Him as my first priority, then everything else will fall into place.
In the past 3 days, I've had 3 people mention something to me about my walk with Christ. My message to you... be aware of those God puts in your path. One way that He speaks to us is through His children. My QT's are not what they should be, but Praise be to the God of second (and third, and forth...) chances. Tomorrow is a new day.
(The Message Version of this Psalm is pretty good too -
take a look
)